Transparency and certification is the key to measurable sustainability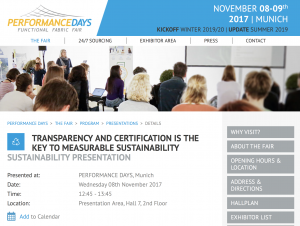 In the pursuit of sustainable production of fabric and clothing, there is a noise of new information that the consumer will be able to take part of. But what information can you trust?
To create and maintain credibility with the consumer and in your own company, We aRe SpinDye® is confident that traceability and transparency are vital to channeling into a certificate.
The presentation shows you how We aRe SpinDye® has done and why and what they think you will gain when you make your information transparent and traceable.
PERFORMANCE DAYS, Munich
Date: Wednesday 08th November 2017
Time: 12:45 – 13:45
Location: Presentation Area, Hall 7, 2nd Floor
Orator:
MR ANDREAS ANDRÉN
We aRe SpinDye®
Chief Operating Officer
ABOUT THE ORATOR
Andreas Andrén is working more than 15 years in the textile industry, experienced in supply chain and customer management. Andreas built a highly successful supply chain organization in China, supplying top fashion like H&M, Zara and Gina Tricot.